Are you are looking for products for your green family?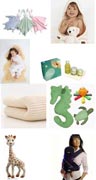 Thinking about using cloth nappies or buying the size above for your baby? Need some breastfeeding aids, a breast pump, cups to feed your baby without risking nipple confusion, new breastfeeding tops? Looking for some new toys and books to entertain your children? Some reusable shopping bags for a greener lifestyle?Well, you are the in the right place.
You will find hundreds of new products at Natural Nursery:
Award-winning natural skin care:
Weleda baby products
are so gentle, they can be used by the whole family. 
Shopping for a
new baby gift
? Find a selection of popular new baby gifts, toys, clothing,
baby sling
… There is something for everyone.
Carry your toddler comfortably with an
Ergo baby carrier
. Just because your baby is now a chunky toddler doesn't mean that you can't continue carrying him. The Ergo baby
carrier
and the accessories are designed to make your life easier.
Would you like to continue
breastfeeding
even when you are away from your baby or when you're
going back to work
? The Lansinoh and Medela breast pumps and accessories will allow you to do just that.
Don't hesitate to contact us if you have any questions, we're here to help.